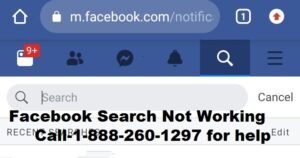 Sometimes Facebook users have been experiencing problems when it comes to using the search bar. So, if you are also having trouble searching for information using the search bar on the Facebook App and Facebook Search Not Working? if yes, then don't worry about it. There are troubleshooting solutions available through which you get things back up.
Why Facebook Search Isn't Working?
If you have experienced Facebook Search is Not Working on the Facebook app, then this issue is likely caused by the following reasons.
Possible Reasons Why Facebook Search Isn't Working
When the Facebook application is not updated
When the device is lagging due to cookies and cache
When you log out of the Facebook app
When your Android phone might have a virus
When someone vanished from your list of Facebook friends.
When someone deleted his Facebook account
When your phone has limited memory space
Language setting and Extensions/add-ons issue
When someone blocked & unfriended you from their list of Facebook friends
How to Resolve If Facebook Search Bar Isn't Working?
Here are mentioned the simple troubleshooting solutions & steps to fix the issue quickly. So, follow these solutions now.
Solution 1: Verify Facebook App is Updated
First, ensure that the Facebook app is updated in the Google Play store. Because sometimes the Facebook Search Not Working issue arises when Facebook App is not updated. Then use the latest version of the Facebook application.
Solution 2: Log out of Facebook
You should try to log out of your Facebook account on your Facebook app just by clicking the arrow on the upper right corner and then hit on the "Logout" button.
Solution 3: Clear Cookies & Cache
You should try to clear the cookies as well as cache, and also make a clear history of the web browser of your phone.
Solution 4: Internet Connection
Make sure that your Internet Connection and WIFI signal is working properly on your mobile device. Sometimes Facebook Search Not Working properly due to an Internet connection issue.
Solution 5: Verify That Person Is Not Blocked You
Often the issue occurs when you no longer see a friend in your Friends list and try typing the person's name in the search field at the top of any Facebook page. Then just verify that the person hasn't blocked you and his/her account still is activated.
Solution 6: Rebooting Your Phone
Also, you should try rebooting your phone. Then again log into Facebook and try again.