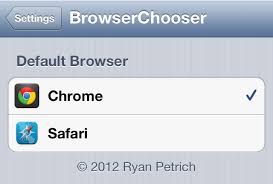 How To Make Chrome Default On iPhone
In this guide, you will get a complete demonstration on how to make chrome default on iPhone as well as on iPad.
 Apple has made it simpler to be allowed one browser to be the default on your iPhone or iPad devices. Along with iOS 14 and iPad 14, you can efficiently change or modify the default Internet browser as well as your default email app just by moving into your setting app. Meanwhile, now Google chrome can definitively set the app as your default and use it for all your browsing. After making this setting, any app or link that activates a standard open URL action will now lead the system to open your Google Chrome browser instantly, in preference to the Safari or other browsers. 
That's how to make chrome default on iPhone simply.
Make Sure Prior Start The Process:
To set the Google Chrome browser as your default browser, you ought to download and install it first on your iPhone or iPad.

Confirm that the web browser app or email client app supports this feature. If you are not sure, you should contact the app developer. 

Check that you have already installed the third-party app that you have iOS 14.
How To Make Google Chrome Default Browser On iPhone
Here are simple steps mentioned on how to make google chrome default browser on iPhone easily and quickly.
On your iPhone, you will have to open the Chrome browser app.

Tap on the "More" button and then choose the "Settings" menu on the right side of the screen.

Then you will see a list of all the installed browsers.

Now scroll down until finding the "Chrome" option and then tap on it.

To change the default browser, you will have to hit on the "Default browser app" option.

Next, you will have to tick on the "Chrome" option.

After that, you will see the Chrome browser is now your default browser on iPhone. 

You can now close the setting. 

Thus, from now on whenever you tap any website link or URL that will immediately open in your Google Chrome app on your iPhone.

That's it.
How To Make Chrome Default Browser On iPad
If you also want to know that how to make chrome default browser on iPad? Then you will get the complete information here. Therefore, it is a simple process. To do it, you can follow the below-given steps.
First, you must confirm that you have downloaded the latest version of Chrome from the App Store on your iPad.

Then go to your iPad, then choose and press on the "Settings" app.

After that, a settings page will open for Google Chrome.

Scroll down until you see the "Chrome" option so then tap on it.

Then choose and press on the "Default Browser App" option.

From the list of browsers, you will need to choose the "Chrome" option.

After that, you can close the settings. 

Now you will see whenever you open a link, next time Google chrome will be open as your default web browser on your iPad instead of Safari.

Done.
Note: All the above defined steps will just be accomplished in case, if you have iPadOS 14 or iOS 14 installed.
Hence, in this manner, you can efficiently and effectively set your browser as your default search browser. Thus, in any case, if you ever change your intention, so you can move back into the settings app section and can change the Default Browser App back to Safari.